This weekend my Calmer and I (and our munchkin) are going to set out for our annual holiday lights tour. We simply get in the car and drive. We LOVE looking at lights. From the classically simple white light displays to the ever so gaudy National Lampoon's type extravaganzas, we can't get enough.
Our tour isn't complete until we mix in some festive holiday drinks and candy canes. Oh! And tuning in the radio to Christmas music is a MUST too. But this year, we're adding something truly special to the mix. We're going to bring holiday cheer to the entire weekend!
And, today I'm bringing our new special holiday tradition to you.
Get your camera ready! It's time for our…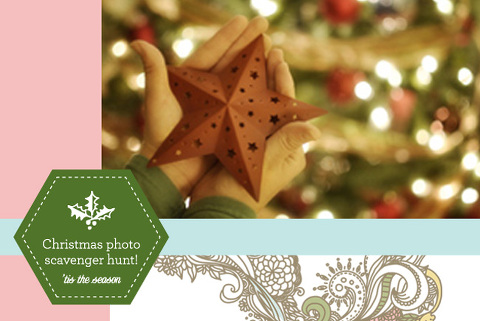 Are you ready to join in the fun? This hunt is totally open ended and ready for you to complete in YOUR own special way.  Pick a buddy or have a party. Make this a solo project or a group contest. Choose your own time frame (hours? days? weeks? the entire month?).  See how many of the fun and festive items you can find.
Go grab your camera and make this holiday season merry and bright with the ones your love!
Oh, and P.S. – if you find and photograph the Figgy Pudding, I want to hear about it!!